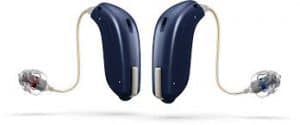 "Opn 1 – A whole new world to enjoy:
Traditional hearing aid technology delivers speech understanding in noise by focusing on one speaker,
while suppressing all other. With Oticon Opn, users can handle multiple speakers simultaneously –
even in complex environments, so they can focus on what is important and switch attention when desired.
Closing down sounds, closes down life:
Technological limitations of current hearing aids have led to the use of narrow directionality to make
speech coming from the front clear, while suppressing the rest of the sound environment.
OpenSound Navigator™ opens up life:
With the OpenSound Navigator, directionality as we know it is now a thing of the past. Oticon Opn
delivers the ultra-fast sound analysis and processing needed to provide hearing aid users with access
to the sounds in their lives.
A new kind of hearing aid powered by the new ultra-fast Velox™ platform, Oticon Opn:
Delivers a constantly open, balanced soundscape
Makes it possible to follow multiple speakers in complex listening environments
Improves speech understanding in noisy environments
Makes it easier on the brain by reducing listening effort
Provides seamless connectivity to iPhone®, smartphones and other audio devices
Our Verdict:
The best hearing aid you can buy if you like mellower sound production & iPhone functionality. This aid will be preferred by music-lovers and musicians. 
APPEARANCE AND FEEL: (the weight, size, shape, how well it fits ergonomically to the ear; the thickness and flexibility of the wire; the shell construction, quality, finish, IP properties, construction of buttons / switches / battery compartment)

A slightly bulky but still pleasing-to-the-eye design. The button is very low-slung which is silly, but it doesn't matter because you'll have the app remote control anyway. The receiver wire is thicker which means it can sit firmly on the ear. The size is ok compared to similar tech aids, like the LiNX and Halo 2. The shell is very well made – I think it will last longer than others.
SOUND PRODUCTION: (tested for how natural sounds are; how owner's voice sounds; quality of classical and popular amplified music; naturalness of everyday quiet sounds such as indicator click, and loud sounds such as toilet flush, wind)

The Opn 1 has a pleasing 'mellow' sound which contrasts well when compared to PHONAK BELONG, GN RESOUND LiNX3D, SIEMENS PRIMAX. The feedback / whistling control seems better than previous versions. I prefer this over the Alta 2 Pro and the Phonak B90. The TV connectline 3 is way better than its predecessor.
BACKGROUND NOISE PERFORMANCE: (how well the instrument appears to cope with the suppression of background noises, such as party speech babble, traffic noise, loud wind noise, car engine sound)

My fellow reviewer and I are of the opinion that this may be out-performing some competitors. It is being kept in droves by new users. I know of many successful fittings to 'difficult and challenging' hearing losses.
EASE OF PROGRAMMING: (from the audiologist perspective – how easy and user-friendly the programming software is: this can affect the quality of the results for the end-user)



Wireless connection is excellent via a dongle. Programming is massively improved. Oticon + iPhone upgrades are clumsily delivered.
MAINTENANCE & RUNNING COSTS: (cost of out-of-warranty repairs, cost of shell repairs, spare parts, ease of procuring replacement parts, consumables such as domes, wax guards, receiver wires; shell integrity when put under stress)

Parts are too expensive, domes are still a clear colour which is a bad idea if one ever comes off loose in your ear, receiver wires are fitted by pushing in to place – rather imprecise. The sports locks wear out quickly and are too dear. The grip tips discolour rapidly.
OTHER COMMENT:  The On app. is quite something. We are testing the usefulness of the IFTTT (If this, then that) app 'recipes'…  The app is too simple – there should be choice for a more complex / flexible app screen.


Overall Score – in Premium range
By AP (July 2016) and BL (Oct.2016, updated Aug. 17)
NEW REVIEW BY TESTER MR 30.11.2016
When I read about the new Oticon Opn hearing aid I was immediately interested in trying them. As an Apple Mac and iPhone user I had gone straight for the ReSound aids as they were designed for the iPhone. Despite desperately wanting to like them (trialing them parallel to a pair of Phonak V90s) I soon got irritated by the quirks of the ReSounds and found some features more nuisance than help. In the end I opted for the Phonaks in combination with the Compilot Air II.
I have been using the Phonaks for nearly two years now – not always without problems though. Both aids had to be replaced as they were faulty switching on and off for no apparent reason. I also realized that even the best aids do not cope with loud environments such as exhibitions, conferences or pubs and restaurants. Perhaps I am asking too much. I was resigned to the fact that some of my requirements were falling into a particular category that stretched the ability of current technology.
The Oticon Opn seemed to address my particular issues with their new technology and multi-directional microphones combined with iPhone usability. Off I went to see Robert to get my hands on a trial set. First impressions on design and size were not positive as the Oticons are using size 13 batteries and are therefore quite a bit larger and wider that the Phonaks. As a plus the receivers were more comfortable to the ear which cannot be said for the width of the aids pressing against the ear. One would assume 13 batteries would mean longer lasting power but I could not detect any great difference to the size 10 batteries for the V90s – both last for about 4 days max, falling well short of the claims made by both manufacturers.
The Oticons provide a completely different sound compared the Phonaks. First hearing impressions were of a rather muffled nature but got adjusted to a more pleasing sound. As always Robert said go and try them for a long as you need and let me know how you're getting on.
I tried the Opns parallel with my V90s in all the various environments I encounter in my job and had to realize that despite the manufacturer's claim of new groundbreaking microphone technology I still faced the same restrictions and limitations that I had with the V90s. No discernable difference in listening quality/clarity in noisy environments. The connection with my iPhone was also not stable, the aids picking up calls sometime but not all of the time. Calls were sometimes switched to mute in conversation of its own accord.
In the end I decided that the Oticons were not the solution to noisy environments and that I might as well stick with my V90s for the moment.
Having said that, not all was bad or the same as with the V90s. I could notice the difference in the microphone technology when moving from one particular environment to another, for example leaving a busy shop. Here the Oticons have a clear advantage as the technology allows for a more fluid change. The V90s carry on, on the same program for quite a while before switching which in retrospect I find quite annoying. After the initial sound difference I found the Oticon sound more pleasing and a bit softer.
In the end my decision to stick with the Phonaks was due to the fact that in noisy environments there was no real upside and the combination of V90s and Compilot Air provide much more flexibility with different technologies: laptop or desktop computer via Bluetooth allow for hands free conference calls over the internet and the Compilot Air works with both iPhone and Android. I can even use the Compilot for hands free calls with the mobile leaving the mobile in an area with maximum reception while I can be a few metres away.
Overall: