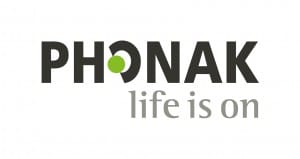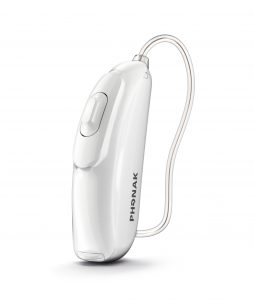 "Enhanced Optimal support in the most challenging listening situations, great sound quality and a discreet, modern design. So small that it virtually disappears behind the ear"
PHONAK AUDEO B90 10 (Premium hearing aid, 2018- RIC style)
Our Verdict:  The Best gets a face-lift for 2018.
APPEARANCE AND FEEL: (the weight, size, shape, how well it fits ergonomically to the ear; the thickness and flexibility of the wire; the shell construction, quality, finish, IP properties, construction of buttons / switches / battery compartment)

Tidied up from the V, with shielded mics and much stronger lacquer / paint finish, cutting down hair-rustle and IP68 protection. Equipped with the best receiver wire on the market – flexible and very thin. Even though competitors have direct connection to iPhone, Phonak benefit from good connection to Android via the ComPilot Air II
SOUND PRODUCTION: (tested for how natural sounds are; how owner's voice sounds; quality of classical and popular amplified music; naturalness of everyday quiet sounds such as indicator click, and loud sounds such as toilet flush, wind)

Most people that trial this – think that it sounds amazing. It definitely sounds 'smoother' than the Venture platform. Is this because of the mods to the chip or the mic ports being better shielded? If this proves to be as good as our initial tests, then it could be the 2017 best seller easily
BACKGROUND NOISE PERFORMANCE: (how well the instrument appears to cope with the suppression of background noises, such as party speech babble, traffic noise, loud wind noise, car engine sound)

The B90 appears to be a winner, instantly.
EASE OF PROGRAMMING: (from the audiologist perspective – how easy and user-friendly the programming software is: this can affect the quality of the results for the end-user)

There is no real doubt that the Phonak fitting software is the best. It's fast, obvious, intuitive. And it's been improved for the Belong.
MAINTENANCE & RUNNING COSTS: (cost of out-of-warranty repairs, cost of shell repairs, spare parts, ease of procuring replacement parts, consumables such as domes, wax guards, receiver wires; shell integrity when put under stress)

Parts are readily available at low cost and the Belong should always be offered with a 5 YEAR WARRANTY.
OTHER COMMENT: This is the best-selling make in Europe. They do spend a lot on research and development. It's an obvious first choice IF you do get offered a free trial. Its likely to be best for longevity too.

Overall best in class
Review by MR (Oct. 2016)